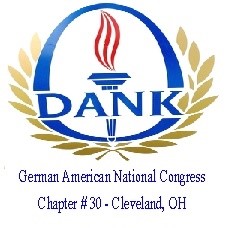 German American National Congress Cleveland
It is the purpose of DANK to unite German-Americans in a respected, influential, non-confessional and non-partisan organization. To defend and uphold the principles of the Constitution of the United States of America. To protect the American national dignity and the esteem of all citizens on the USA, without regard to race, religion, sex or origin. To preserve with all legal means the interest and heritage of the German-American Community, this loyal element of the American nation. To stand up against anti-Germanism, and to promote a respectable image of German-American heritage. Not to involve D.A.N.K., a non-partisan association, in party politics, but to support endeavors in the area of national and international politics, which serve the well-being and security of the United States of America and rest of the free world. To promote the existing friendship between our homeland America and our ancestral lands and other territories of the German language and culture. To encourage its members to attend instructions in civics, to be United Sates citizens, and to conscientiously exercise the right to vote. To encourage German-Americans to take individual interest in political and public events. To foster German culture and customs and to promote the preservation of the German language, an to contribute to the mutual understanding among the people of all nations. To seek the cooperation of the German-Americans, associations and other ethnic groups. To represent the legitimate interest of German-Americans on local, state and national levels.

The Cleveland Chapter of DANK is non profit under IRS Code 501(c)4, meaning that donations are not tax deductible. We are listed with the IRS as a civic service organization.